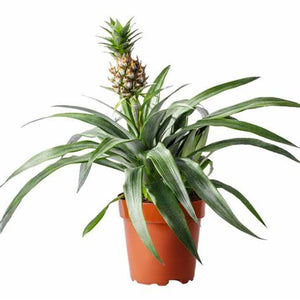 Water: Water thoroughly once the first couple inches of soil are dry. Water until drain through. Empty extra water out of catcher. Light: As much direct sunlight as possible. Tips: When the miniature pineapple reaches a mature age, the center of the rosette of spiny leaves produces a flower stalk. The stalk elongates and rises above the foliage to reveal a rounded cluster of lilac to red flowers with yellow bracts, resembling a pine cone. After the flowers, the ovaries swell into plump, pulpy masses to create a small pineapple fruit with a large crown of foliage. The flower stalk may...
---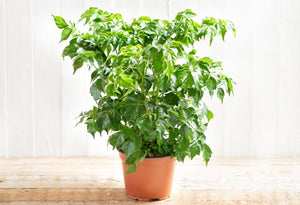 Water: Water once the top inch of soil is dry. Keep moist but not wet. Light: Lots of medium to bright indirect light. Tips: Loves humidity.
---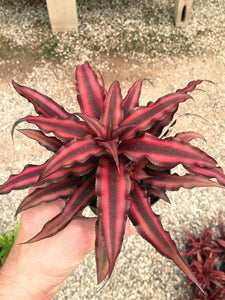 Water: Keep moist. Light: Bright indirect light or light shade. No direct sunlight. Tips: Likes humidity.
---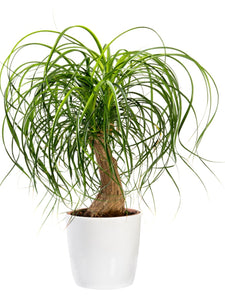 Water: Since this plant is a succulent, it grows best in semi-dry conditions. When growing ponytail palm as a houseplant,you should let the soil dry out significantly in between waterings. Light: Bright Light. Tips: Because ponytail palm care requires dry soil, it is best to let them get root bound before repotting and when you do repot them, use a pot that is only an inch or two (2.5 to 5 cm.) wider than the previous pot. If you repot them into a larger pot, they can get too much water at once, which can damage their growth and health.
---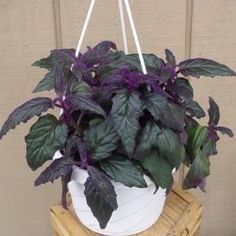 Water: Keep moist but not soggy. Light: Bright to moderate light. No direct sun. Tips:  Avoid wetting the foliage, as the hairy leaves can trap moisture and begin to rot. Fertilize every two weeks from spring through fall as part of velvet plant care. Fertilize monthly during winter.